Community Resource Center
Providing basic needs and long-term holistic support helps families achieve their hopes and dreams. For a family struggling to make ends meet, asking for help is often a last resort after exhausting all of their resources. Staff work in partnership with customers to solve the individual and unique set of challenges that bring each of them through our doors to ensure their basic needs are met and goals for the future are within reach. The Community Resource Center serves as the agency's volunteer and donation hub, providing solutions to build capacity.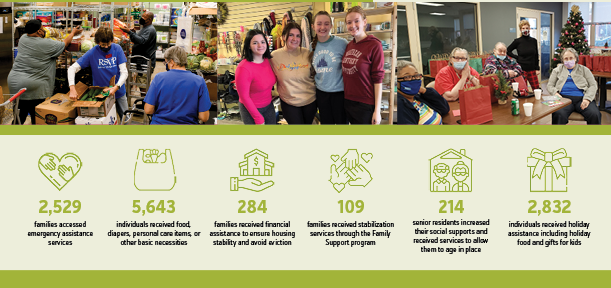 Family Support
Family Support is a crisis intervention program intended to help individuals and families with emergency needs. Families receive referrals and linkages to emergency services that enable them to stabilize through case management and supportive wraparound services.
Neighborhood Community Garden
The Community Garden has 96 raised beds, allowing residents to increase knowledge of ways to grow food and cook nutritious meals.
Thrifting on Eastern
Thrifting on Eastern is a community thrift store that offers high-quality, gently used household items and clothing at affordable prices. Proceeds benefit Family Support programs.
Senior Support
Senior Support provides support to older adults at Brighton Properties' Saratoga Place, Two Rivers, and Austinburg Apartments to connect them with services that will allow them to age in place.
Holiday Drive
Through generous donations from local families, churches, and businesses, Brighton Center is able to provide holiday items for customers. Families engaged in Brighton Center programs can participate in Wish Tree to choose gifts for their children. The Used Toy Sale is a long standing Brighton Center tradition, where children ages 2-12 shop for their siblings, friends, or other young family members with the help of an adult volunteer.
Why We Do It
Across the Cincinnati region, more than 270,000 households experience food insecurity. According to a study conducted by researchers from the Cincinnati Children's Hospital, childhood food insecurity has been associated with negative health outcomes, including iron-deficiency anemia, overweight or obese status, increased likelihood of hospitalization or illness, increased risk of developmental delays, and lower physical and psychosocial functioning. In a recent Bankrate survey, 39% of American workers who received a pay raise in the past year said they were struggling to afford basics like groceries and other household goods because their pay hadn't kept up with the pace of inflation.
Source: Health.Gov/Healthy People 2030