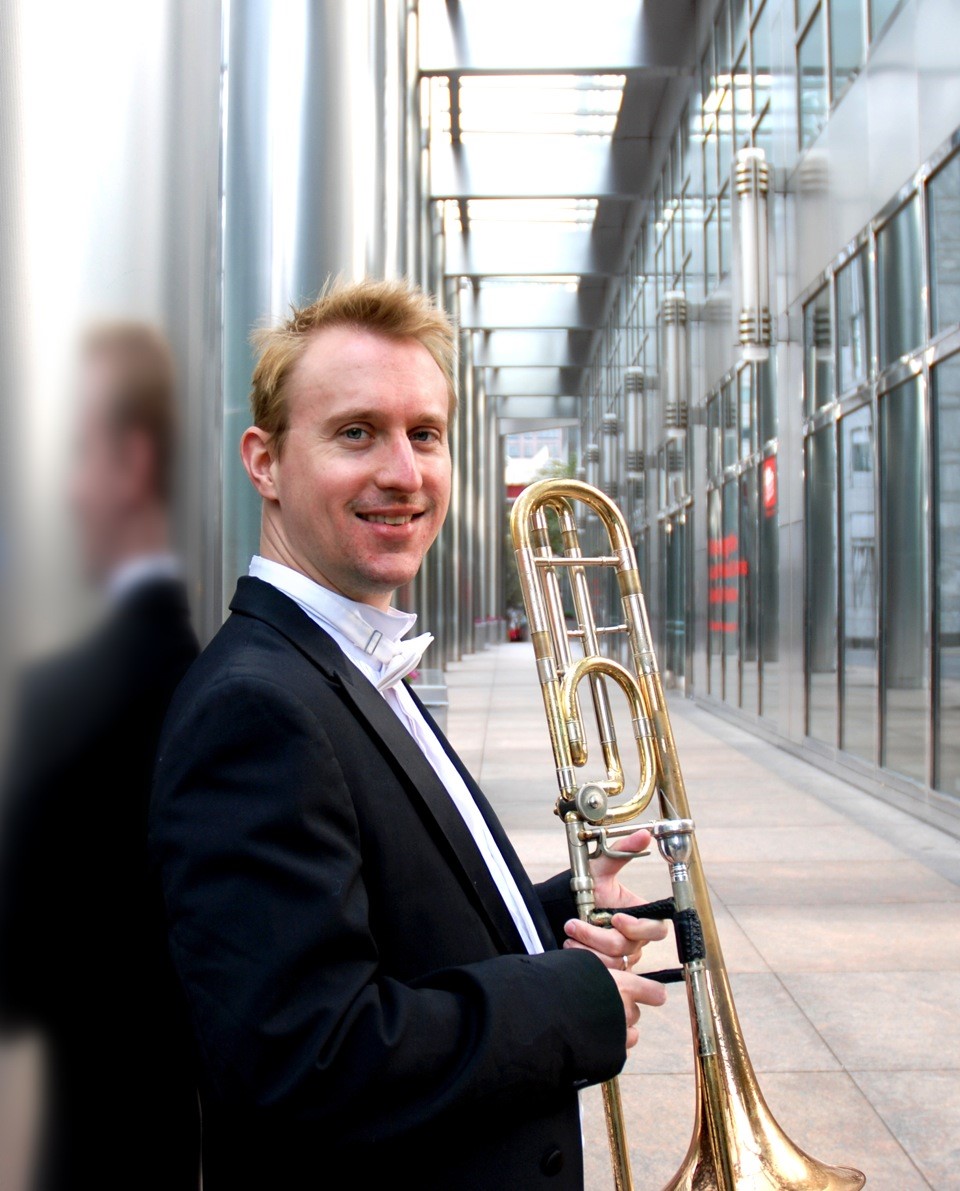 I studied music at Duquesne University in Pittsburg. My dream was to be a symphony musician so I practiced endlessly. Once I graduated, I auditioned for a position at the Memphis Symphony and performed with them for five years. I enjoyed my time spent with the symphony, but I wanted to see the world.
I was fascinated by Europe and had friends from college who studied overseas. I finally just took the plunge and I went to London in 2007 to get a post graduate diploma at The Royal Academy of Music. After a year living there and going to school, I decided I wanted to stay. Around this time I met my wife who had also traveled to study music. We ended up living in Europe for 8 years total; 7 years in London and 1 year in Demark.
My wife and I decided to move back to the states after 8 years to reestablish ourselves in music. We looked at regions that would be ideal for freelancing and I knew the Midwest would be a key area; the orchestras are robust and we could travel to perform. The Cincinnati area is where we settled.
We were renting a house in Ludlow for two years when our landlord told us he was trying to sell the house. We didn't want to move so we decided to try and buy it. We were looking to eventually buy in this region anyway.
The hard part was trying to get a mortgage as a freelance musician and this ended up being a long drawn out process. Along the way, I started utilizing a down payment assistance program that could help us purchase the home. In this program, we had to take a mandatory homeownership class and this is how I got introduced to Brighton Center.
I chose Brighton Center because of the one-on-one opportunity to sit with a professional. I got in touch with Pam, a Financial Coach at Brighton Center, and took the homeownership class with her. This class taught me everything I needed to know about buying a home, which routes I needed to take, and what to expect when purchasing a home. She got me in touch with the resources I needed.
At the time, we were dealing with a mortgage broker that wasn't going as planned. I sat down with Pam and she put everything into prospective. I could trust her and she had my long-term goals in mind. There is a chance that I would have given up on the home buying process if it wasn't for Pam.
We officially closed on the home and I could not be more proud. We now have a place of our own. Through the process, I am most impressed that Pam was so accessible and provided grave information to myself and my wife.
One of my biggest dreams in the world is to connect music from all over the world. I benefitted from playing overseas and I have a totally different perspective as an artist. I think that if I can share this experience with musicians who haven't had the opportunity, it would make the world of music a better place.
« See All Stories