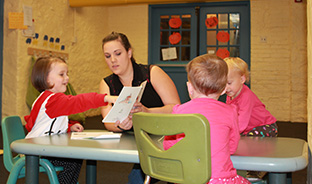 Brighton Center is honored to announce we have been awarded a $100,000 Family Literacy grant provided by Scripps Howard Foundation,
the Greater Cincinnati Foundation, Duke Energy Foundation and WCPO 9 On Your Side. This grant will support our Home Visitation for Parents of Preschool Youngsters program which is a kindergarten readiness program designed to help parents in becoming their children's first and most important teacher for creating a foundation to lifelong learning and family literacy.
"We know we can't have strong learners without strong families and strong families without strong communities, so we truly appreciate this investment in our families and the community," said Wonda Winkler, Executive Vice President of Brighton Center as she accepted the award at the Scripps Howard Foundation Awards Ceremony on Thursday, April 19.